AGDisplays' line of rugged mobile devices offer many practical improvements over commercial smartphones and tablets. Designed to exceed the demands of transportation, medical, and industrial applications, our mobile devices are tough enough to handle a hard day's work — no matter where your field takes you.
To understand what makes AGDisplays' rugged mobile devices stand out among the glossy, glassy, and expensive line of consumer technology, we should first look at what it takes to be considered "rugged". A device's IP rating is a formalized indication of its protection from the intrusion of foreign matter; matter that can include water, dirt, or even fingers. Most big brand smartphones and tablets are not IP rated, yet some offer vague claims of "water resistant," or "dustproof". The IP system aims to dissociate from these sorts of imprecise claims by relating their own ratings to a set of strict definitions set forth by the International Electrotechnical Commission (IEC). These definitions, as seen below, offer in no uncertain terms, the conditions in which a device has been tested to comply.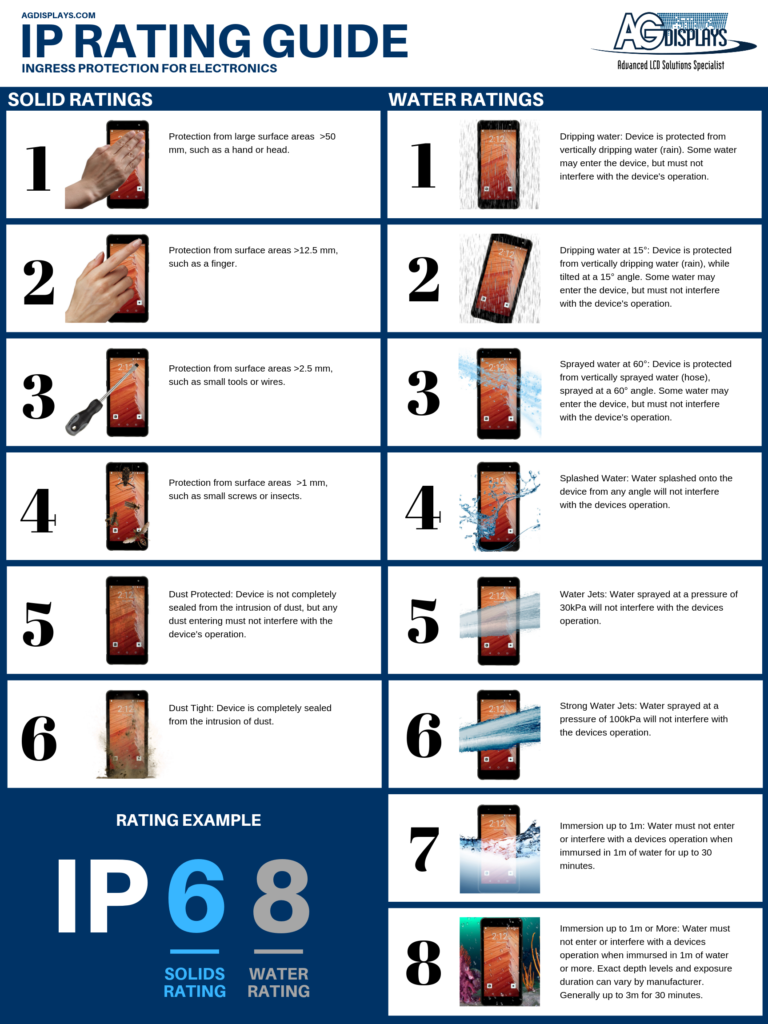 A quick glance at this chart shows that a device has many combinations of IP ratings available across the scale. AGDisplays' considers a device with a rating of IP64 or better to be truly rugged. Ratings falling below IP64 are classified as "semi-rugged", and while they don't offer the complete benefits of a fully rugged device, a semi-rugged one may be more suitable for situations where full environmental protection is unnecessary. AGDisplays' P/N: AG070-A-WX-4-2-IP54-V1 is an example of a semi-rugged tablet that offers some dust and water protection without the full submerse-ability of a completely enclosed design.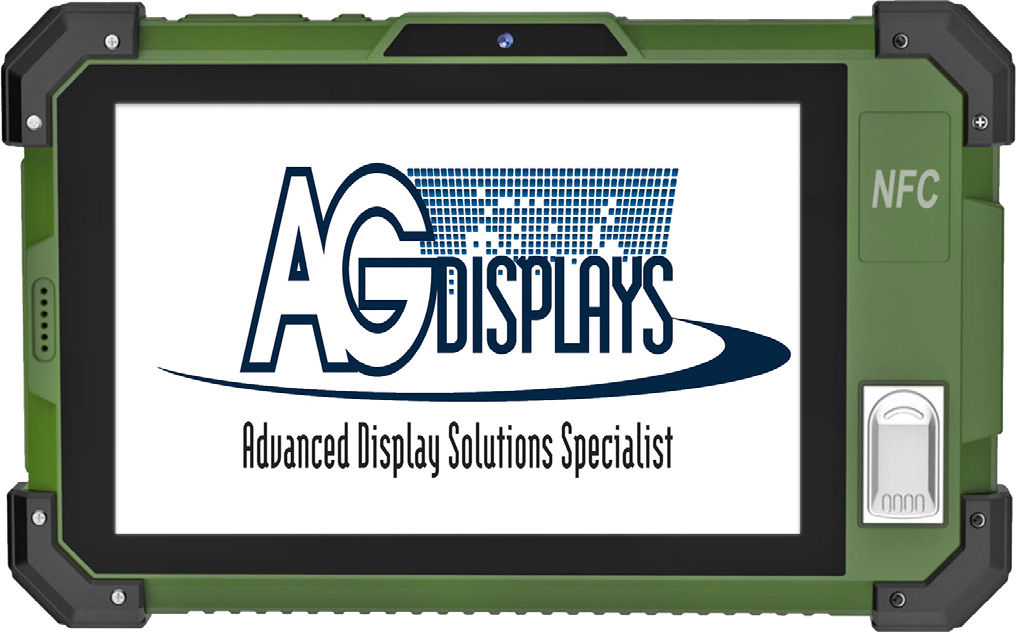 While the IP rating is a good indication of a device's ruggedness, it doesn't tell the whole story, and although increased ingress protection and waterproofing are two of the most important aspects of ruggedization, the third factor is one that everyone can relate to. Drop damage is maybe the most common issue that device owners fall into. To ensure that an AGDisplays' rugged device is fully protected from falls and drops, our technology is subject to the testing standards put forth by the US Military, specifically MIL-STD-810G. The MIL-STD-810G drop/shock test is a series of 26 drops, from 4 feet, onto a 2-inch-thick sheet of plywood. The 26 drops are intended to impact the device on all its surfaces, including the screen, corners, and edges. The device is inspected for damage after each drop, and the testing continues.
While these are the main factors that contribute to the ruggedness of a piece of technology. There are a few more items you might consider. The first extra detail that you should be aware of is the construction of the LCD and touch screen. Depending on the type of bond, either full optical bond, or air-gap, a break to one piece may cause a break in the other. In the case of an air gap, it is possible that a break to the touch screen can leave the underlying LCD untouched. This leads to the potential for cheaper repair or replacement. Also, depending on the material construction, either glass, glass and film, or plastic, a break to the screen can dislodge shards of glass, creating a potentially dangerous situation.
Another factor to consider when judging a devices ruggedness is the outside construction material. Most rugged smartphones and tablets will have an oversized rubber or plastic frame, very unlike consumer phones made with soft metals and shrinking bezels. Along with construction material, form factor and the overall mechanical design of a device contribute to its durability. Rounded corners offer more protection by distributing the impact force of a fall evenly around the edge of the display. Larger bezels protect the screen by putting more distance and material between the screen's edge and the device's edge, and recessed displays have less of a chance of landing directly on their face if dropped. The more area between a device's display and its frame, the more drop protection you can expect.

So now that we understand what makes an AGDisplays device rugged, how can a rugged device help in your field of work? Our focus is on three large and growing industries, which are the transportation, medical, and industrial manufacturing industries. Beginning with transportation, there are many applications and markets which a rugged device can immediately improve job performance. From railyards to airports, taxis to semi-trucks, our rugged devices are built to withstand the shock, vibrations, and temperature changes that come with being on the move. Having a device at hand allows you to input shipping and customer data at the point of contact, eliminating paperwork and increasing the pace of business. With capabilities such as 2D/3D barcode scanning, NFC, and GPS items can be delivered and scanned, delivery routes can be optimized, and your workforce can communicate and coordinate enroute. Many of our devices can be equipped with additional accessories such as handheld straps and vehicle mounts meaning your device never has to leave your cabin – or your side.
Medical devices, while sharing many of the challenges of those devices used in the transportation industry, need to excel in multiple other areas. Patient documentation, healthcare workflows, medication tracking, cloud computing, and equipment sanitization are just some of the applications that can be streamline with an AGDisplays rugged device. Paper documents can be lost or damaged, but with a mobile device, a patient's entire medical record can be kept just a few clicks away. The helps speed documentation, reduce paperwork, and give doctor's and patients access to information in remote locations like a rescue operation. Doctors and patients can even communicate via video conferencing without ever having to make an office visit or appointment. In everyday situations like workflow charting, medication tracking, and note keeping, a digital device can help increase legibility by reducing the amount of handwritten instructions.
Similarly, devices like Apple watches and Fitbits are quickly being integrated into healthcare, with proprietary tools like blood sugar, heartrate and activity monitors taking advantage of IOT networks to track and combine patient data in easily manageable data pools. AGDisplays' rugged devices take advantage of the emerging IOT wave by offering devices compatible with Bluetooth 4.2, and creating a low powered, seamless connecting and sharing experience between your wearable health tracker and your rugged mobile device.
Finally, nothing is useful inside of a hospital if it can't be cleaned and disinfected, but an IP-rated rugged device from AGDisplays can be cleaned with soap-and-water — as well as chemical disinfectants, meaning it can be sanitized between patients and professionals. These devices can even be prepared with antimicrobial films over the touch screen, reducing the number of harmful bacteria to ever reach the screen's surface.
Our rugged mobile platforms are also a great tool for those working in heavy industrial manufacturing. Like the transportation and medical industries, one of the main defining forces of future manufacturing is the Internet of Things. Updating databases via the cloud, remote inventory management, device to device sharing, and employee interconnectivity are just some of the pillars of future smart factories, and AGDisplays offers an expanding platform of responsive and rugged mobile devices fit to excel among manufacturing technology. From multitasking to dedicated devices, our rugged smartphones and tablets allow you to schedule workers, track sales, and create purchase orders. Equipped with NFC, RFID, and barcode scanners, these same devices can track manage inventory wirelessly and more accurately than hand-entered methods. Able to connect to internal networks wirelessly through WIFI and locally via RJ45, our IP rated, dustproof devices are perfect for the warehouse floor—they are fully rugged and able to withstand the often dirty and sometimes dangerous environment.
AGDisplays rugged mobile devices are designed to benefit any application or industry by providing a responsive, powerful and IP rated tool to the customer. Our mobile lines can be customized at the factory level to provide customers with unique solutions and personalized computing platforms. To learn more about our line of rugged smartphones, tablets, and monitors, or to begin you own design, please visit www.agdisplays.com.