Electromagnetic shielding, or EMI shielding, is the use of materials in a manufacturing design to protect an electronic device from any external electromagnetic noise. When an electronic device (in this case, an LCD) is inundated with excessive electronic signals, then the performance and function of the device can fall way below maximum capacity.
The image below represents an LCD with electromagnetic interference. EMI can produce distortion, horizontal/vertical lines and discoloration on the screen. When you add an EMI solution, your display benefits from increased system reliability, improved electronic operation and even in some cases, enhanced wi-fi connection.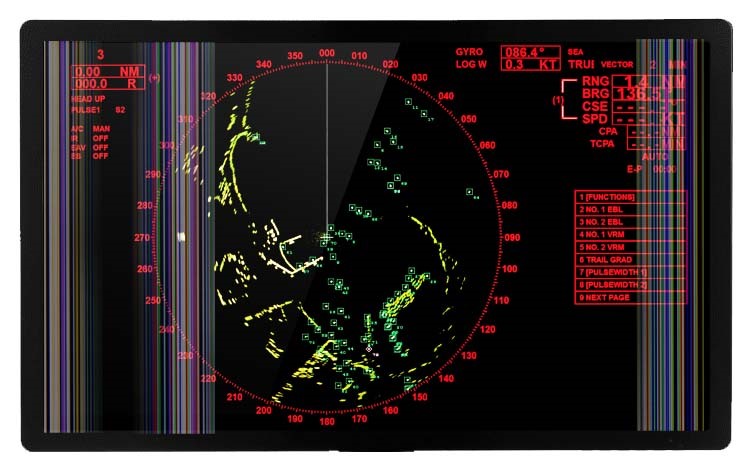 The most common industries that need EMI shielding are electronics that are used in critical applications.
Military displays
Secure shielding equipment
In-flight entertainment displays
Avionics
Medical equipment and MRI rooms
Test and measurement
Financial/ATM
Why is it important to protect your LCD from EMI?
Protection
LCD displays today are used across all industries and for various purposes. One of which is communication. When a customer uses an ATM, or a soldier is communicating on a touchscreen or similar LCD device, the highest priority is on the safety of sensitive information.
System Reliability & Lifespan
Electronic function like signal integrity, durability and long-term reliability of the LCD display and components are of the utmost importance to guarantee consistent and accurate instrument measurements and performance.
Readability & Functionality
With low readability, the user isn't able to clearly complete his tasks. If signals are interrupted by outside interference, the computer system may not be able to execute tasks properly at all.
Benefits of Designing with AGDisplays
Continuity of supply: sourced by our suppliers in the USA, AGDisplays has a reliable and steady partner that has been trusted for the past 10+ years.
Thin integration: EMI solutions come in many forms. For designs requiring a robust solution, many companies offer metal box solutions. AGDisplays offers custom sized EMI mesh and ITO film solutions, for a thin but high protection level.
Cost effective: EMI mesh and film solutions come in at a fraction of the price of metal boxes.
Retrofit to any size LCD display: films are cut to all LCD display sizes.
Easy installation: film and mesh solutions do not require altering electronic components or specifications.