The touchscreen display is the standard interface to nearly all human-to-machine interactions. Their familiar form factor makes them the easy choice when it comes to visualizing the information our machines need to tell us, and when your display breaks, it can feel like losing your wallet and your keys all at once. Many industrial and commercial displays serve as the gateway to much larger and complex processes. Displays often control industrial machines and inventory applications, manage software and record keeping, or display vital information needed to maintain business operation. Unfortunately, most of these types of displays are also used in rough environments, or are handled hundreds of times daily, and are subject to impacts, vibration, and other hazards. Display failures are common in these environments, but luckily repair experts like AGDisplays are here to bring dead displays back to life.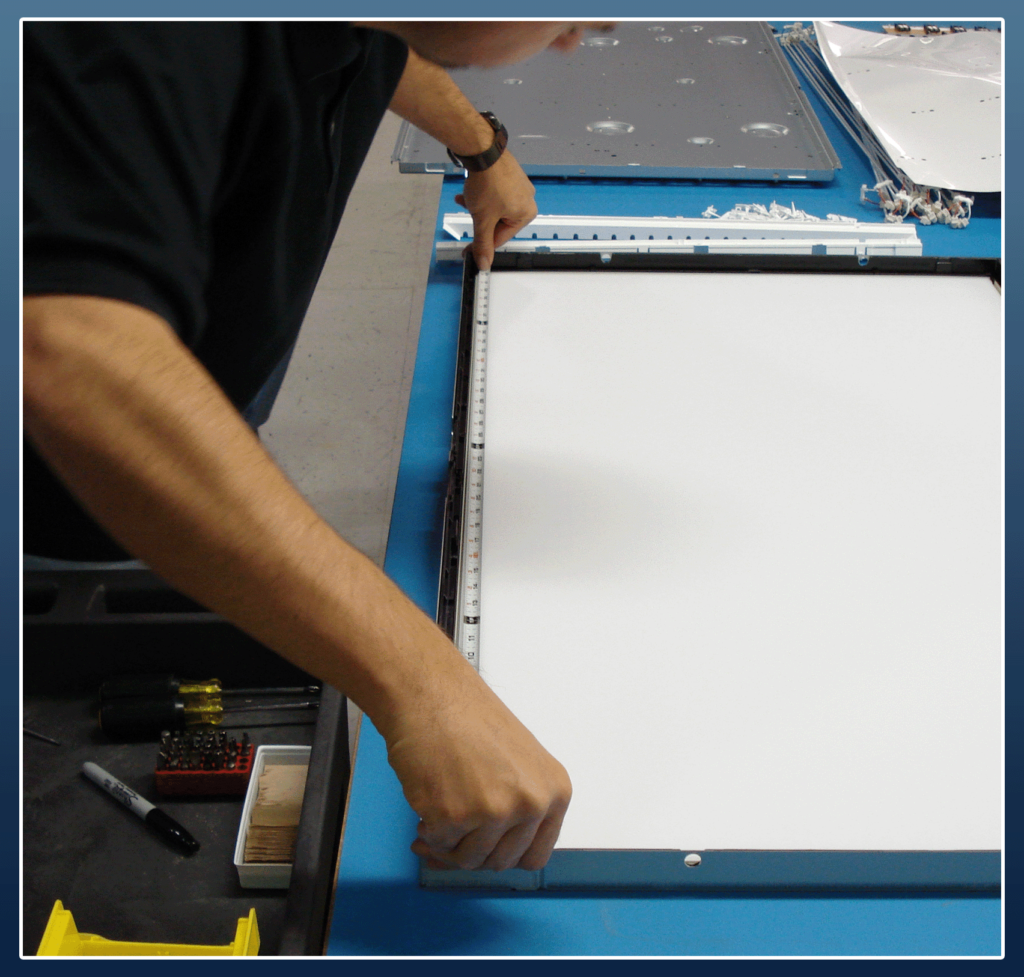 What are some Common Failures?
There are many ways LCDs can be rendered inoperable. In some cases, the damage might be obvious, a cracked screen or damaged power cord. Other times, internal damage can cause the display to fail. Water damage, sun damage, debris ingress, backlight damage, delamination, digitizer failure; these are just of the few common ways an LCD can be made un-useable. Other modes of failure, such as stuck or dead pixels, LCD bruising, or light leakage may not be catastrophic, but will reduce the quality of user experience with the display.
CCFL and LED Problems and Solutions
For many aging and legacy type LCD displays, the internal light source is comprised of rails of CCFL light tubes. CCFL lighting is a power hungry and mercury containing lighting element with a high voltage requirement and short lifespan when compared to other LCD lighting methods like LED or OLED.
There are many symptoms of a failed or failing CCFL backlight. Typically, a CCFL display in the throes of failure will exhibit signs such as flickering, dimming, or inconsistent light output. Pink, red, or orange color temperature, flashing on or off, or simply not turning on are further warning signs. As CCFLS age and begin to deteriorate, they will begin to draw more power consumption and emit more heat than normal creating an even shorter product lifespan, and if they break or shatter outright, they will emit dangerous mercurial vapors and, of course, broken glass.
Read More: Industrial LCD Repair eBook
AGDisplays has perfected our own method of removing CCFL lighting from the old display and replacing them with newly manufactured replicate bulbs to give the display an extended lifetime and similar profile as the original model. Our CCFL designs can be customed designed to various shapes, sizes, voltages, and color temperatures. AGDisplays CCFL repair services also include testing of the accompanying CCFL power inverter, and if necessary, making the correct repairs or replacement. We have also created a plug-and-play LED lighting solution where we replace the old or broken CCFL with low-powered, low-profile LED rails. Our LED rails are designed with energy efficiency and high brightness in mind. When compared to traditional CCFLs, when compared to AGDisplays LED replacements, our LEDs present faster response times, less flicker, and better color. LEDs often require less space, lower voltages and less replacement cost and maintenance than their CCFL backlight counterparts. Other benefits include programmable dimming, longer lifespan, and ease of replacement.
Delamination. Can it be Repaired?
Another common LCD restoration is the delamination repair. Delamination occurs when the top layers of the LCD module begin to peel apart. Most often this is seen as either the top polarizer stripping away, or the touchscreen releasing from the display due to a poor bonding quality and adhesive failure. For bonds such as the liquid optical bond, which combine a touchscreen and LCD via a liquid epoxy poured uniformly and cured evenly by UV light, precise conditions must be met to ensure 100% direct bonding. In a parallel lane to delamination, there are other possible bond defects that can affect the useability of a display. Yellowing, hazing, or discoloration of the bonding material can affect both the visibility of the display and the touchscreen performance. Microbubbles left behind after UV curing can expand, and uncured adhesive can leak into the display or outside of the bezels. These kinds of bond specific failures often occur to outdoor displays which are subject to extreme temperatures, direct sunlight, and water.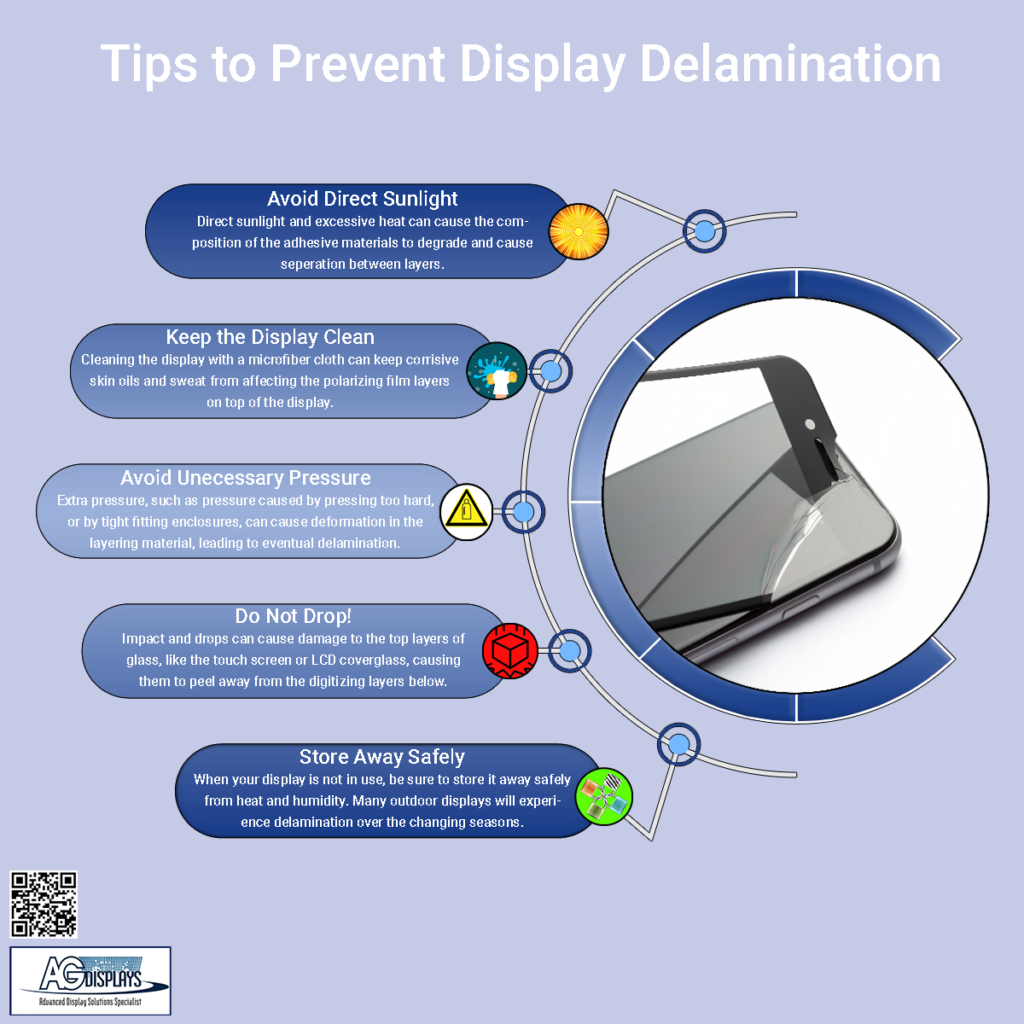 AGDisplays uses two methods of correcting touch screen delamination. Both start with verifying that the touchscreen is still functional and free of damage. If this is the case, we continue with the removal of touchscreen, using a manual process to safely detach the touchscreen from the display and save it for reapplication. This route is the most cost effective and time efficient as we can reapply the touchscreen and return a functional display using the original materials. If either the touchscreen or LCD is damaged, we will use our factory partners to find or customize the right part to repair the module. Then reassembly is undertaken by our team of highly trained technicians at our US location. Although this method may be the longer route, you can be assured that your display will be drop-in replacement made with new materials and delivered with full AGDisplays service and support.
Our two methods to repair delamination, whether using new material or old, is to replace the failed bonding material with either OCA (Optically Clear Adhesive) film, or a new UV cured optical bond. The choice of bonding material is usually determined by the customers budget, time frame, and existing material stack-up. OCA material is a fantastic replacement for liquid adhesive because it can be quickly cut to size, does not require rigid environmental conditions to use, and retains much of the optical properties of liquid bond. OCA is also the easier material to replace, should later damage occur to the touchscreen or display.
What if my Display Simply Doesn't Work?
Of course, AGDisplays repairs much more than just the above major projects. We offer full display evaluation before performing any repair work, and provide a standard repair pricing structure for all of our RMA customers. Our repair service offers customers an opportunity to avoid replacing entire display units for minor repairs. AGDisplays other services include but are limited to; power supply evaluation, stuck pixel evaluation, contamination/debris removal, enclosure repair, controller repair, etc. Some of the benefits of working with AGDisplays for your display repairs include access to EOL and hard to find displays, full diagnostics and analysis on each display, extended warranty program for displays no longer covered by a manufacturer's warranty, flexible pricing, including upgrades and value-added services, and our team of expert technicians with over 40 years of experience.