What Is a Rugged Display?
Common sense tells us that an LCD is a delicate piece of technology meant to be handled with care. Often expensive and made with fragile components, an LCD on its own wouldn't survive the many varied tasks and environments they are currently found in. Thankfully, Rugged LCDs are an enhanced version of a standard display module, tablet, or touchscreen display, and are meant to operate in extreme or abnormal conditions. Rugged displays can be found in environments like: extreme heat and cold, under direct sunlight, inside of wet, moist, and submerged conditions, high-altitude or in a vacuum, in dirty, dusty, and sandy conditions, or simply in heavy use or rough environments. There are many ways to make a rugged display, and the method chosen often depends on the application and environment that the display will ultimately be used for. There is no one size fits all approach to building a rugged display. For example: customers in a retail or tech industry may want a sleek, consumer looking device, that incorporates rugged materials without adding any industrial or heavy looking modifications. Other industries, such as the military or heavy equipment, may prefer the more aggressive and robust look of a heavily modified rugged display. To accomplish either design, AGDisplays incorporates many methods and techniques when it comes ruggedizing our displays. Ruggedization can occur both inside and outside of the display, can certified with IP-ratings and Mil-Std requirements, and carries extended support beyond the manufacturer's limited warranties.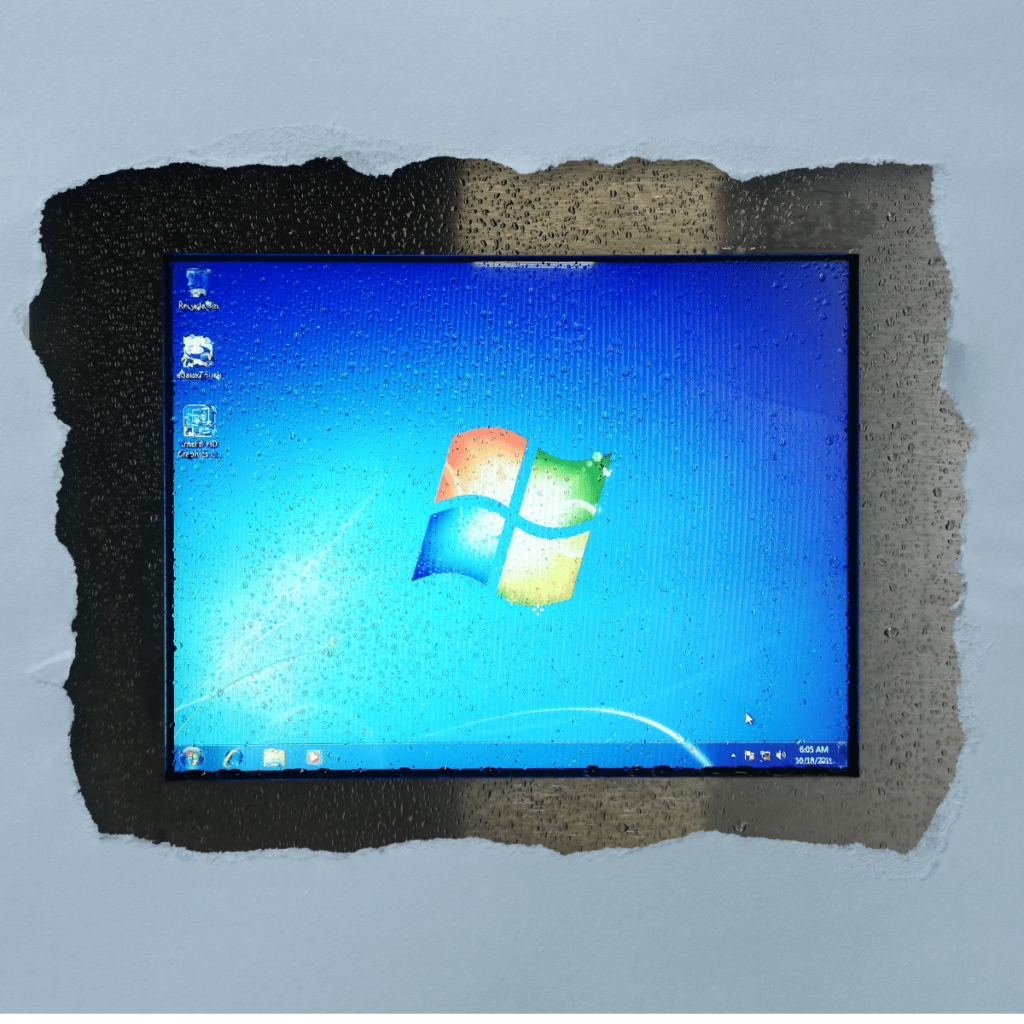 Coverglass
Coverglass is an important feature in terms of ruggedizing a display. Coverglass can be applied on its own as a protective measure added directly to the LCD screen, or it can be combined with a touchscreen to provide an even greater layer of protection. Coverglass can add ruggedization in multiple ways. On its own, coverglass is a chemically hardened glass cover meant to resist cracks and scratches. When applied with an optical bond, coverglass helps provide protection against vibration and impact. Coverglass can also be combined with features like EMI laminate, to insulate the display and surrounding environments from Electromagnetic interference. Coverglass can be equipped with transparent heater wires to help an LCD display operate in extreme cold weather environments. Other surface coatings, like AR or Matte coating, can help a display survive and function in direct sunlight.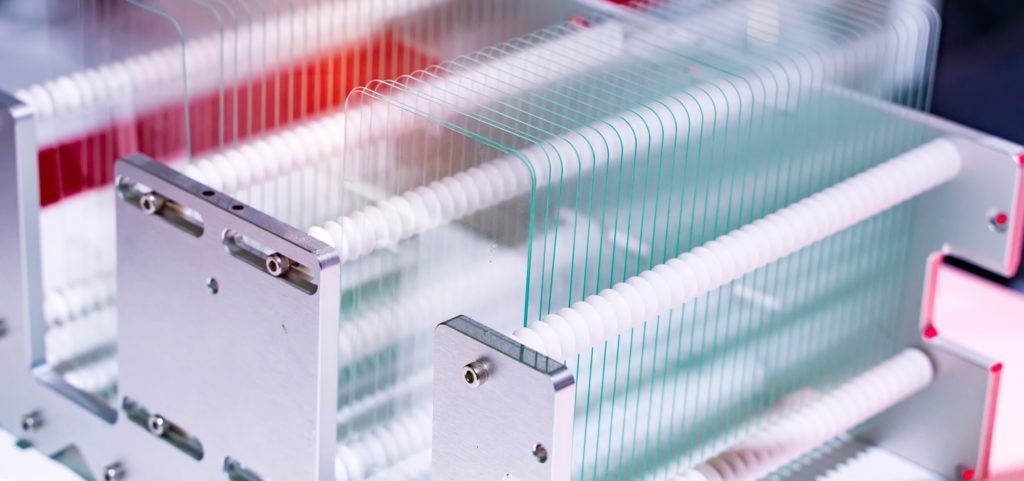 EMI Shielding
As mentioned above along with coverglass, EMI Shielding techniques can help ruggedize a display by protecting it from damage from various forms of Electromagnetic Interference. The most common techniques and materials used to prevent EMI are based on Conductive mesh and ITO film applications that deflect electromagnetic waves away from the screen, and prevent internal waves from propagating into the environment. Ambient EMI waves from nearby electronics, if left undefended, can affect the LCD by distorting the display's colors, causing static or snow, and creating false or failed touches on a touchscreen. By applying EMI protection measures, the display maintains optimal clarity, while being ruggedized against harsh static interference.
Here is a breakdown of our basic EMI ruggedization solutions, as found on the AGDisplays website:
Thin Film Coating:
Our EMI solution is a transparent conductive film
Cost effective solution, not involving an active enhancement
Compatible for use with a touch sensor
High visible transmission with low electrical resistance:10 and 20 ohms/sq
Significantly reduces problematic EMI and/or IR emissions from surface
Superior to ITO films at low resistance for transparency & mechanical properties
Conductive Mesh Solution:
Woven wire mesh
Robust active enhancement, providing high level of protection
Compatible for use with a touch sensor
Photopic transmission at ≥85%
Diffuse reflectance at 30° at ≤0.14%
Specular reflectance at 30° at ≤1.2%
≤0.25 Ω/sq. surface resistance
Shielding effectiveness: 50Mhz (megahertz): ~75dB or 100Mhz: ~65dB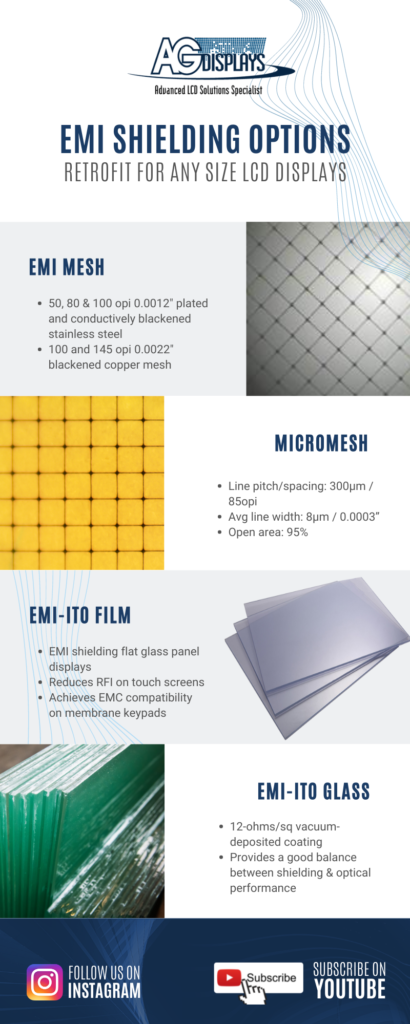 Custom Backlight
Rugged LED rails are an excellent method of strengthening a display, especially when retro-modifying an older display that originally used CCFL tubes as its backlight source. Not only are CCFL tubes prone to breaking, but they are often power hungry, heat inducing, and less bright than their LED counterparts. AGDisplays LED rails offer important benefits on their own, such as an expanded lifetime on up to 100,000 hours, extended durability in harsh temperatures (such as extreme heat and cold), and lower power consumption when compared to CCFLs. LEDs are also environmentally friendly, as they are ROHS-compliant, mercury- and lead- free, and have reduced EMI emissions. LEDs aren't the only component to a ruggedized backlight. The right LED controller is required to dial in the exact voltage and current required to optimally produce the best brightness, while also maintaining a low operating temperature, as to not affect the displays' internal components. When paired with the right LED controller, LEDs will maintain a more consistent brightness, last longer, and draw less power than with a less than optimized controller.
Optical Bonding
Optical bonding is maybe the most ruggedizing modification that can be made to an LCD display. Optical bonding is a technique meant to adhere either a piece of coverglass, or a touchscreen, seamlessly to an LCD without an air gap. This is achieved in one of two ways. The more simple method is to use a pre-cut Optically Clear Adhesive (OCA) that is produced in sheets made to the exact bezel size of the display. The second method is to use a UV Curable Liquid Adhesive that is measured volumetrically and spread across the display before being hardened in a UV chamber. Both methods add rigidity to the display and help protect it from impacts, shattering, and debris intrusion. Adding an optical bond also helps protect against vibrations and shock, as well as moisture and sun damage, and by bonding a coverglass or touchscreen directly to the LCD display, internal air gaps and reflection points are removed allowing for more optically clarity and uniform viewing from all angles.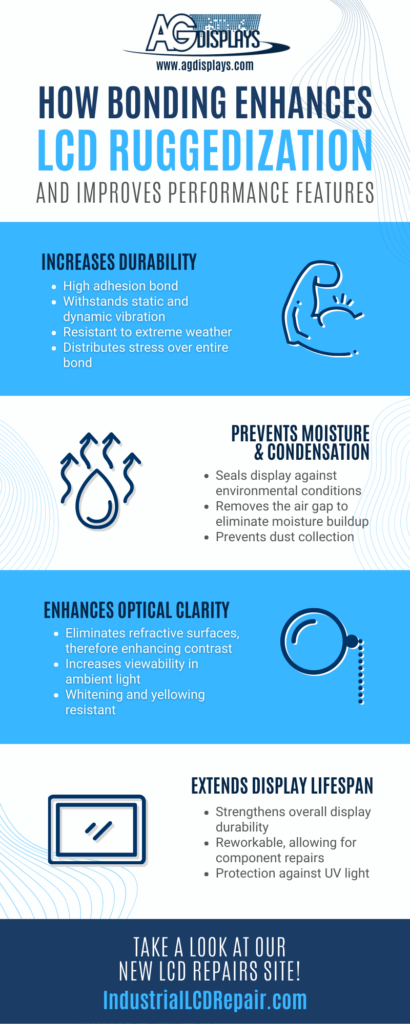 Lifecycle Support
Extensive lifecycle support means help and expertise throughout the display designing, buying, and servicing process. If your display is damaged in its everyday use, our RMA team and expert technicians can deliver high performance repairs in a limited time frame, returning your displays to working order much quicker and less expensive than through an OEM manufacture's warranty program.
Included in our lifecycle support system is our EOL display and component replacement services, which take advantage of our extensive and strict supply chain and internal procurement offices to source parts directly from US and overseas manufacturers.
Read More: AGDisplays Lifecycle Support and EOL Replacement Program